Heroes' Voices National Veterans Poetry Contest

In cooperation with George Mason University


Prizes: $1,000 – $500 – $250 – $100


Entries accepted January 15 – March 15

Heroes' Voices helps veterans build confidence and community by connecting them with the power of music. Veterans raise their voices together in song with our free music workshops, free online guitar lessons, and on-line resources. Launched in the San Francisco Bay Area, we are expanding throughout the USA.
Heroes' Voices puts the transformational power of music to work for our veterans by: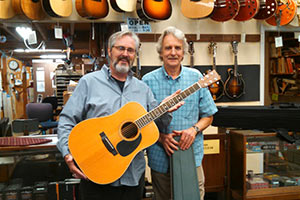 Creating opportunities for veterans to engage with music.

Building alliances with other veterans organizations to expand the use of music in their programs.

Connecting veterans to music and to their communities with an online database of art and music organizations.

Promoting and sponsoring research into music therapy for veterans with Post-Traumatic Stress Disorder and Traumatic Brain Injuries.
Breaking down barriers
Rick from Heroes' Voices has been coming to lead music groups in our inpatient mental health unit weekly for the past year and it's been a delight working with him!
Veterans have brought up his group in our focus group several times as one of the best things we're doing in the unit.
I have personally watched veterans who are depressed and speak very minimally and don't participate in other groups in the unit, come to the group and burst into song.
In between songs and after the group, it's great to see them chatting with other veterans. Music is so powerful in breaking down barriers!
Heather McCormick, RN-BC
Inpatient Coordinator, Acute Recovery Center , San Francisco VA Medical Center
Sign up for Heroes' Voices Newsletter and Blog